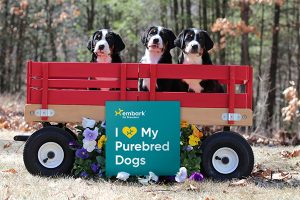 This year Embark Veterinary celebrates National Purebred Dog Day® (NPDD) on May 1 as a debut sponsor of the "Litter-ally, the Cutest Puppies" photo contest challenge. NPDD believes in the heritage, diversity and predictability of the purpose-bred dog. Embark is committed to helping breeders preserve the genetic health and diversity of breeds and supporting the long term health of all dogs. These shared values align Embark and NPDD toward working with breeders to protect the breeds they love, and that all dogs are valued, whatever their ancestry.  
For camera-savvy breeders, this means your contest photo needs to feature your pups that are "litter-ally the cutest puppies" around. Puppies featured in the photo must be more than 4-weeks-old and less than 1-year-old to enter. The photo must include a litter of at least two puppies. 
The photo contest winner will receive up to four Embark for Breeders Dog DNA Kits for each puppy in the litter. If the winner has two or three puppies in the litter, two or three standard kits will be awarded. These kits provide genetic results for health risks, physical traits, COI, and genetic counseling for breeders. See official contest rules for details. 
The NPDD photo contest happens on May 1 on its Facebook page. 
Embark's  "I ♥ Purebred Dogs" lighter teal downloadable sign 
Embark's "Happy National Purebred D♥g Day" horizontal downloadable sign 
Embark's "Happy National Purebred D♥g Day" square downloadable sign 
Embark's "I L♥ve My Purebred Dogs" darker teal downloadable sign 
How to enter the National Purebred Dog Day Photo Contest 
Learn About Embark's Photo Challenge Theme
According to the NPDD website, "Historically, purebred dogs have worked alongside their people and provided them companionship while serving as guide dogs, service dogs, conservation dogs, livestock guardians, search and rescue dogs, earth dogs, police dogs, canine soldiers serving by the sides of our military men and women, and ultimately guardians of family, home, and hearth." Embark for Breeders couldn't agree more. In addition, "Purebred dogs have been of enormous help to medical science, serving as models for many heritable human diseases, playing a role in humanity's understanding of the human and canine genomes, and serving as avalanche dogs, trackers and trailers, herders, controllers of vermin, water rescuers, carting and sled dogs, retrievers, protectors, hunters, and bird dogs, and always they are the heartbeat of a companion near and dear to humans."  
Beyond purebreds' role in helping identify genetic causes for shared diseases in humans, the  unique closed breed populations of purebreds also enable genetic research into discoveries such as the cause of canine physical traits like roan coat color and blue-eyed dogs. Making diverse discoveries about genetic health and physical traits provides more understanding for future research to decode dog DNA to benefit man and his best friend. 
Official rules
The Embark Photo Challenge is limited to breeders and is open to breeders from across the world

One entry per person; You may enter four different photo challenges. If you enter Embark's challenge, you may enter three

more

The contest begins on the NPDD

Facebook page

at 12:01 a.m on May 1, 2021.

When submitting your photo entry on Facebook, you must indicate the name of this contest which is

Embark's "Litter-ally" the Cutest Puppies Photo Challenge

Within the photo, your image

must

include at least two purebred dogs from the same litter and one of the following Embark signs which you may download from the links below.