Pits and Tits is located in sunny San Diego, CA. Started in March 2013, this rescue has dedicated themselves to rehoming Bully breeds and providing these dogs with any necessary medical care they may need prior to being adopted. Pits and Tits aims to eliminate breed-specific legislation that unfairly stereotypes against certain dog breeds. They also support breast cancer research by donating a portion of all their apparel shop sales, adoption fees, and donations to help to find a cure.
The meaning behind Pits and Tits
What sets Pits and Tits apart from other rescues is their mission to not only rehome Bully breeds but to showcase these dogs in a positive light and improve public perception of them. This rescue has seen that "people either love [Bully Breeds] or despise them," so their goal is to help eliminate the negative stereotype. Pits and Tits have found the dogs they take care of to be extremely loyal and obedient. They need to be in loving, responsible hands. Their mission of changing perceptions of Bullies has had an effect on staff members even. One of the organizers at Pits and Tits said that she had a prior opinion of these dogs that was "entirely misguided and based off of an uneducated misconception." It took her adopting a Bully to realize this and since then she has made it her mission to help these dogs find the right home.
Meet Polly
Pits and TIts rescued a litter of pups from Mexico a few months back. They knew nothing about Polly and her littermates other than the fact that they looked like a Bully Breed mix. Nobody could pinpoint the ancestry of these pups before their Embark Breed + Health Test. Pits and Tits prefers to test their dogs' DNA because they think knowing the background of a dog's ancestry can help place them in the right home. This helps adopters know what sort of traits and behaviors to expect from their new family member.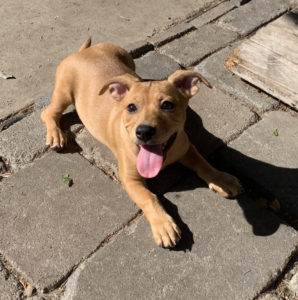 If you want to help Pits and Tits in their advocacy for Bully breeds, you can donate or see their list of adoptable dogs.
Has your pup been Embarked, yet? Order yours today to learn more about your furry friend!