Join us in the fight against canine cancer
Cancer is the leading cause of death in dogs, with over 6 million dogs diagnosed each year.
Your dog can make a difference with a simple cheek swab.
Embark Veterinary is actively recruiting Poodles and Rottweilers diagnosed with common cancers in order to identify possible genetic risk factors.
Embark Veterinary is currently recruiting DNA samples from purebred Poodles (all sizes) and Rottweilers diagnosed with one of these common types of cancer:
Hemangiosarcoma 

Lymphoma 

Mast cell tumor 

Melanoma

Osteosarcoma 
Participation in our research study is simple. Complete a brief form to enroll your Poodle or Rottweiler diagnosed with cancer. If your dog is eligible, you will receive an Embark DNA kit at no cost. Follow the instructions in the kit to collect a DNA sample from your dog, create an account to activate the swab, and return the kit to us using the pre-paid shipping mailer.*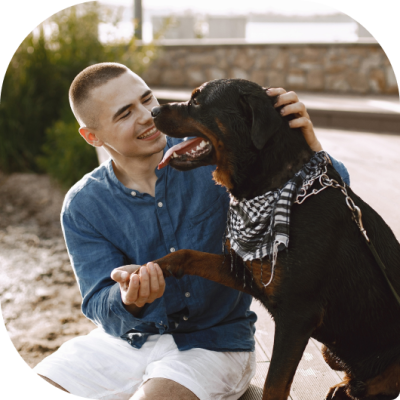 About Embark Veterinary cancer research
Cancer is the leading cause of death among dogs, and we want to change that. Embark Veterinary is focused on identifying possible genetic risk factors for certain cancers. We are continually expanding research and plan to include more breeds and types of cancer in the future.
Frequently asked questions