Participate in Embark's
DCM Study
Dilated Cardiomyopathy (DCM) is a late-onset heart condition that affects both purebred and mixed breed dogs. We are actively recruiting dogs diagnosed with DCM to advance this study.
Dogs must be diagnosed with DCM to qualify. There are no requirements regarding prior DCM-related genetic testing or suspicion of a nutritional component
DCM is a disease of the cardiac muscle that prevents the heart from functioning properly. An echocardiogram, ultrasound, chest x-ray, or Holter monitoring of the heart will confirm the disease. When caught early, DCM may respond to medical management, slowing the progression of the disease, but DCM can often lead to congestive heart failure.
The eligibility form will provide us with information that is beneficial to the progress of the DCM Study. Please complete the eligibility form if your dog has a confirmed DCM diagnosis by a veterinarian.
Receive a complimentary Embark 
Breed + Health kit
If your dog qualifies for the study – you will receive a complimentary Embark Breed + Health Kit in the mail. You will then need to activate your kit, swab your dog, and return the kit with the prepaid mailing envelope. Once received by our laboratory your dog will be automatically enrolled in the DCM study.  You will receive email notifications of swab processing status. *International shipping costs can also be reimbursed.
Receive post-study results
Once your Breed + Health kit have been processed and completed, you will receive a notification to view results of standard Embark testing. Embark alway strives to publish our discoveries in open-access journals- any DCM discoveries will be featured on the Embark Veterinary website.

Working together to advance research for DCM
Embark Veterinary and Hill's Pet Nutrition have a shared mission of better health and increased longevity for all dogs. With your help, we can better understand the genetic underpinnings of Dilated Cardiomyopathy and work together to protect future generations of dogs from this often debilitating heart disease.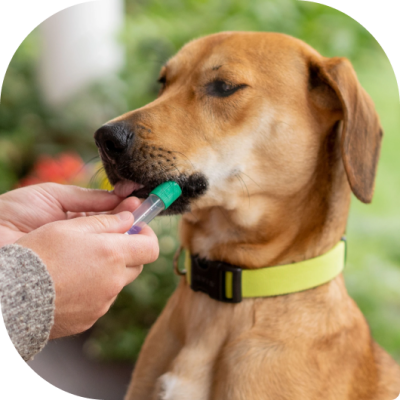 Our goal is to genetically test 1,000+ dogs affected by DCM—the largest sample size studied to date and the first to include any and all breeds as well as mixed-breed dogs. We are actively recruiting dogs who have been diagnosed with DCM through echocardiography performed by a cardiologist. (Please note: dogs simply need to be diagnosed with DCM to qualify, there are no requirements regarding prior DCM-related genetic testing or suspicion of a nutritional component.) 
Frequently asked questions