Published: February 8, 2021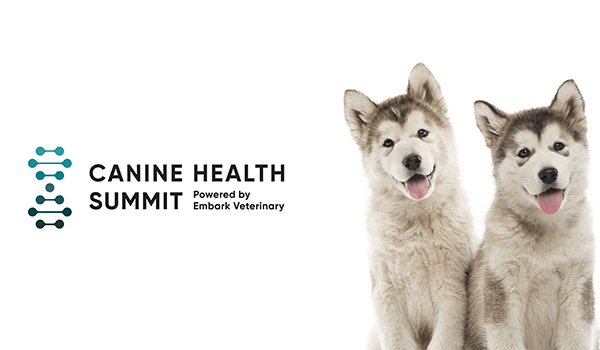 Embark strives toward our mission to improve the life and longevity of all dogs through science and technology. To advance this mission, we are always seeking new ways to help breeders manage breed genetic health, increase diversity, and participate in cutting-edge research that will accelerate the pace of genetic discovery and support purpose-bred dog-breeding.
Embark was born out of Cornell University College of Veterinary Medicine and built upon high throughput, 'big data' technology to fuel canine genetics research. Not only do we value the insights of breeders and owners, we rely on a 'citizen science' model and have enlisted the help of breeders, pet owners, and veterinarians, all working together towards a common goal.   
The inaugural Embark Canine Health Summit on February 15-16, 2021, is another opportunity to continue on the path of our mission. The virtual event will feature expert content and discussion for dog breeders, fanciers, health experts, and enthusiasts. Topics include Canine Genetic Research, Population Management and Diversity, and A Breeder's Perspective on Canine Health. In addition to these topics, Dr. Brian Hare, noted researcher, and author of the New York Times bestseller "The Genius of Dogs" will provide the keynote address, and there will be a special panel discussion led by the Westminster Kennel Club.
The two-day Canine Health Summit is free to attend, and attendees are encouraged to contribute to the Summit's fundraiser benefiting Morris Animal Foundation to support canine health research. Embark will provide a matching donation of up to $5,000 to Morris Animal Foundation to thank the many distinguished speakers and panelists who have donated their time to support this important event. We aim to exceed $10,000 in donations for Morris Animal Foundation to show support to the canine research community by directly funding one of 200+ active studies. 
Embark embraces this opportunity to have members of our community support a leader in animal health research. Embark's scientists were provided with invaluable information from Morris Animal Foundation and The Golden Retriever Lifetime Study integral to our insights on inbreeding and fecundity. Learn more about this study and others in our research.  Combined, the Morris Animal Foundation and Embark are working towards the mission of combating disease and improving the lives of animals and pets alike. 
Please consider donating to Morris Animal Foundation in support of canine health research today.
Save your spot! Register for free now.
Register now—and check out the website for the most up-to-date information and the opportunity to ask questions to the speakers and panelists.
In the meantime, there are lots of ways to start the ball rolling: 
Check out our

Canine Genetics for Breeder

s

page—a comprehensive breeder resource.

Sign up

to start getting emails and exclusive breeder content.

Take our surveys to help researchers and breed clubs with ongoing research. You can access them anytime from your dog's Embark profile by clicking the 'research' tab in the top right corner.

Submit your own

research requests.

Keep an eye out for breeder-specific events and live seminars on our

Faceboo

k

page—or

reques

t

to host your own live event.

And be sure to share news of our upcoming event with your breed clubs, health organizations, and fellow breeders. 
We look forward to seeing you at the Summit—and to future collaborations with our breeder community. Together, we can advance genetic discoveries that improve the lives of all dogs. Questions? Contact us any time at breeders@embarkvet.com. We're always glad to help.