Unlock lineage to drive longevity for all dogkind.
Every dog in our database brings us closer to realizing our mission of ending preventable disease in dogs. Our decision to develop a proprietary research-grade DNA genotyping platform at Cornell University College of Veterinary Medicine was rooted in establishing technology that enabled us to have the greatest potential to make future genetic discoveries.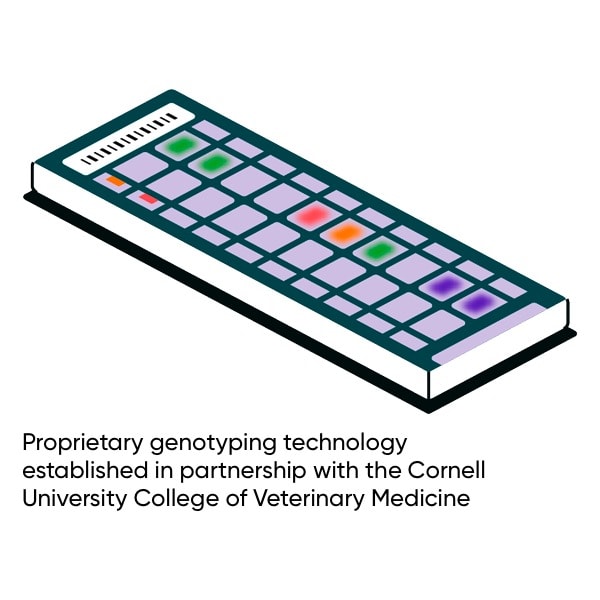 Our pact to make an impact
We've already made genetic discoveries, and we're just getting started.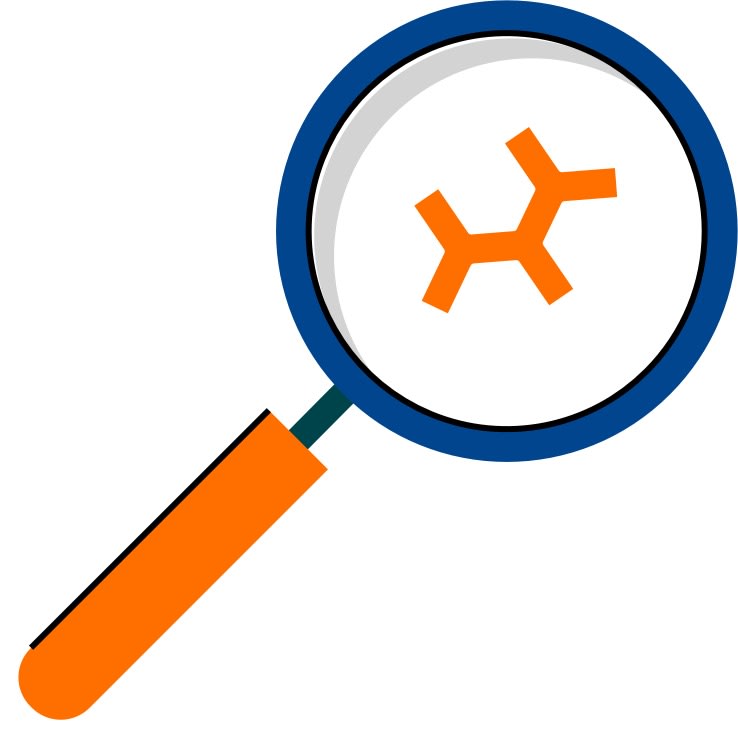 Building a brighter future for animals with the brightest of (human) minds
Leading canine health, breed, and industry organizations collaborate with us. By bringing together some of the brightest minds, we accelerate impactful research focused on identifying genetic associations to health-related conditions.

When we set out to improve Doberman Pinscher health and longevity, we knew we needed the best DNA test available and the brightest minds in veterinary genetics.
How It Works
When you create an Embark account for your dog, in addition to sending in their swab (which unlocks their genetic data!) you'll have the opportunity to answer survey questions online. By answering survey questions about your pup, we can combine your dog's genetic data with millions of other data points to help fuel future scientific discoveries.
Get your DNA test today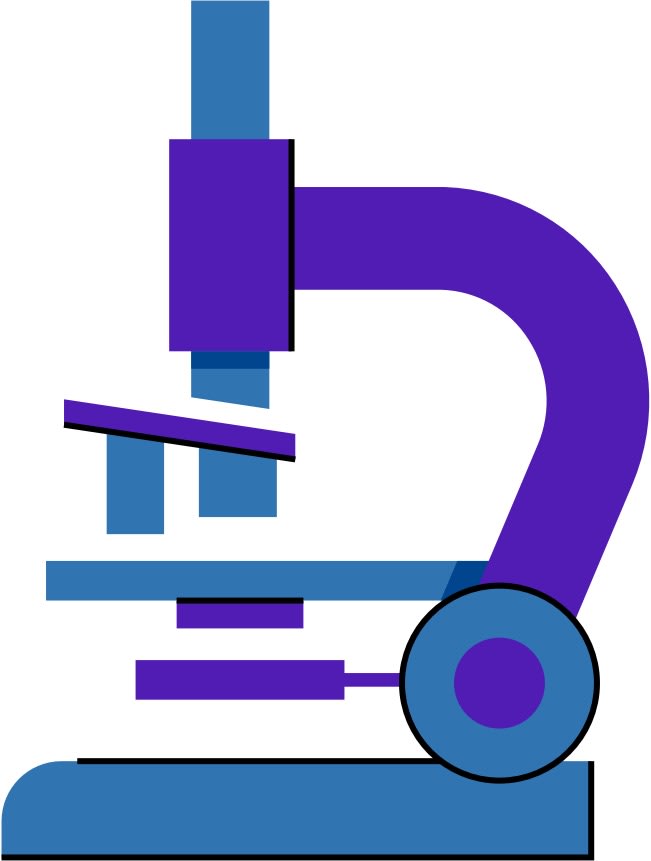 Leaders of our pack
Embark has world-leading canine geneticists on-staff to make genetic discoveries to help us reach our mission of ending preventable disease in dogs.
ADAM BOYKO

Adam is an associate professor in Biomedical Sciences at Cornell University College of Veterinary Medicine, focused on the genomic investigation of dogs. His research has addressed fundamental questions of dog evolution and history, disease and trait mapping, and advancing genomic tools for canine research. Adam has coauthored over 40 peer-reviewed scientific papers, including research in Nature, Science, and the Proceedings of the National Academy of Science. He is a graduate of the University of Illinois, Urbana-Champaign and received an MS in Computer Science along with a PhD in Biology from Purdue University before completing his postdoctoral work at Cornell and Stanford.

AARON SAMS

Aaron is a Senior Scientist at Embark. As a broadly trained evolutionary and computational biologist, he leads research projects to better understand the distribution and impact of inbreeding in dogs. Prior to joining Embark, his research on using computational methods to better understand the evolutionary dynamics of population admixture and the evolution of complex traits, such as immune-related disease in humans. He is thrilled to now be applying those skills to advance canine genomics and health. Aaron is a graduate of the University of Tennessee-Knoxville and received both an MS and PhD in Biological Anthropology from the University of Wisconsin-Madison. Subsequently, he worked as a Postdoctoral Fellow in Biological Statistics and Computational Biology at Cornell University.

ANDREA SLAVNEY

Andrea is a Bioinformatics Scientist at Embark, where she works on discovering new genetic variants underlying canine traits and disease using her background in population genetics, genomics, and computational biology. As an undergraduate at the University of Wisconsin – Madison, she studied genetics and anthropology. While earning a PhD in Genetics, Genomics, and Development from Cornell University, she researched the evolution of gene content and expression on the mammalian X chromosome along with the genetics of human complex disease. Of all the species she's worked with, dogs are definitely her favorite.

SAMUEL VOHR

Sam is a product developer at Embark. Prior to joining the company, Sam studied computer science at the University of New Hampshire as both an undergraduate and master's student, where he focused on scientific computing and bioinformatics. He went on to earn a PhD in biomolecular engineering and bioinformatics from University of California, Santa Cruz. As a doctoral student, Sam joined the UCSC Paleogenomics Lab, where he contributed to several projects involving the analysis of genomic sequences from both ancient and modern individuals, including examining the evolutionary histories of archaic and modern humans along with the development of novel computational methods for forensic identification. He has also collaborated with fellow researchers studying the genomes of bacteria, archaea, ancient barley, wolves, and the extinct passenger pigeon.

TAKESHI KAWAKAMI

Takeshi (Taki) is a Senior Research Scientist at Embark. He is an evolutionary geneticist with broad experience in deciphering demographic history and trait evolution by applying cutting edge genomics technologies. Taki's research has been published as more than 30 articles in scientific journals, including Nature and Nature Communications. Having worked on various wild animals and plants across the globe, he is applying his fundamental knowledge in genomics to understand why dogs are so awesome.

MEGHAN JENSEN

Meghan is a research scientist at Embark focused on discovering genes linked to canine disease, body traits, and behavior. Prior to joining the Embark team, Meghan applied genetic and genomic techniques to the conservation and management of various wildlife species including giant salamanders and birds of prey. She also worked in the field of immunology for 2 years, researching immune response to infectious disease in mouse model systems. She has a strong interest in animal behavior and is heavily involved in a veteran service-dog training non-profit based in south-central New York. She received a BS in biology and a BS in wildlife sciences from Paul Smith's College, an MA in biology from SUNY Buffalo State, and a PhD in Forest Resources Science from West Virginia University.

BRETT FORD

Brett is a Bioinformatics Research Associate at Embark, investigating the genetics of village dogs- the largest and most diverse group of dogs- and developing tools to measure relatedness and manage inbreeding. Before joining the Embark team, Brett received a BS in biology from St. Lawrence University and an MS in biology from the University of British Columbia. During his education and throughout the interim, he studied the genetics of various organisms including porcupines, ants, rattlesnakes, badgers, and wetland plants. Brett has long been interested in the genetics of canines and is excited to apply his varied experience to discover more about man's best friend.

ALISON RUHE

Alison serves as scientific liaison to our widespread dog community. Alison studied both biology and English literature as an undergraduate and master's student at the University of California, Davis, and transitioned to veterinary genetics research at the UCD School of Veterinary Medicine with a focus on both equine and canine genetics. Alison's and colleagues' previous work contributed to a number of discoveries included in Embark's current platform and she has a keen interest in the genetics of behavior. Alison also has extensive experience within the dog fancy – as a dog breeder, trainer, judge, and successful dog sport competitor. Alison's aim is to combine both her professional and personal interest in canine genetics and dog biology to contribute to new discoveries with the Embark team.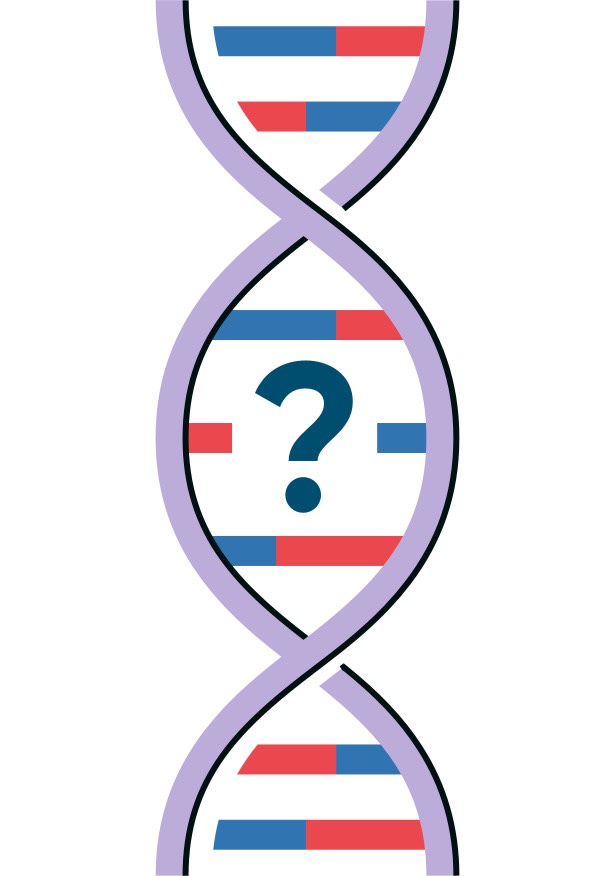 Frequently Asked Questions
What if I don't want my dog to participate in your research?
Your dog's participation in research is completely optional. When you create your dog's profile, and at any point after that, you can opt in or out of our studies.
Do you do breed-specific research studies?
Yes! In fact, many of our genetic health studies are breed-specific, in partnership with breed organizations.
Where can I see a list of all of the publications from your scientists?
Click here for a list of the papers published by our science team and leadership.