Laura Reeves is an AKC Breeder of Merit*, AKC Judge, podcast host, and a retired zone representative for the Professional Handler Association. Laura is a second-generation breeder of German Wirehaired Pointers (GWP) under the Scotia Kennel banner.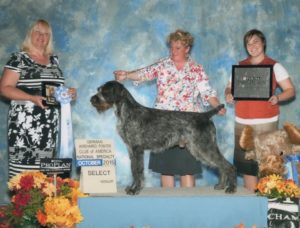 #1 German Wirehaired Pointer by Breed Points in the Country in 2014
As the host of the Pure Dog Talk podcast, Laura is committed to educating purebred dog breeders and owners about methods highlighting responsible breeding. The podcast features dozens of episodes that help listeners understand the importance of proper vet care, breed-specific diseases to be aware of, and why breeders and dog owners should be utilizing genetic health testing. "At Pure Dog Talk, we believe in supporting organizations that contribute to the development, health, and proper function of all purebred dogs," Reeves stated.
As an example, on episode 357 of Pure Dog Talk podcast, Laura Reeves sat down with Dr. Sophie Liu, co-founder of the Doberman Diversity Project (DDP), to discuss her work in using advanced tools to improve genetic health issues in Doberman Pinschers. The mission of this non-profit organization is to reduce the incidence of heritable diseases in the Doberman breed by studying widespread disease-associated mutations through comprehensive genetic testing and the impact of overall genetic diversity loss within the Doberman population. Embark has partnered with DDP to offer genetic testing kits at reduced cost so that Liu and her team can immediately benefit in their quest to gather and leverage genetic data. By using her influential podcast platform, Laura is able to continuously help educate thousands of dog breeders on important topics just like the Doberman Diversity Project.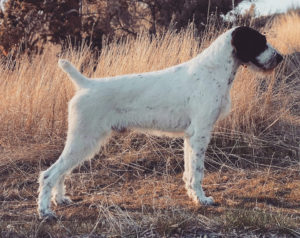 Laura is currently using Embark Veterinary to test the German Wirehaired Pointer Sire pictured above
While Laura's podcast journey started in 2016, her dedicated passion for dogs began as a child. "My mom enrolled me in dog care 4-H when I was in 4th grade because I was 'shy, retiring and lacked people skills' … I was possibly the only 3rd grader in the world who knew the Dewey Decimal system by heart and whose best friend was the school Librarian," Reeves observed wryly. As a result, Laura spent her childhood training field trial Labs with games of baseball to improve their blind retrieves, teaching Clumber Spaniels how to swim, and German Wirehaired Pointers to retrieve to hand.
"I've spent the last 40 years with purebred dogs…. breeding, training, showing, competing in various performance events," Reeves said. "German Wirehaired Pointers, under The Scotia Kennel banner, have earned well over 100 titles, most of them 'in front AND behind their names.' From the first Best in Show winning Dual Champion GWP, my mom bred and I showed the only CH/MACH5 GWP and the only VC/CH/UDX titled GWP. All of my breedings have followed the best practices for health testing of the day. Today, I'm proud to be Embark testing the sire and dam of my upcoming litter for the first time. The only way I can stay on the cutting edge of bringing healthy, happy, good-looking, good-working dogs into existence is to utilize every tool at my disposal. Adding to that 'toolbox' at every opportunity ensures I'm doing my part to preserve the versatile heritage of the German Wirehaired Pointer in its best form."
*The American Kennel Club created a Breeder of Merit Program in order to honor and showcase "responsible breeders who have gone above and beyond on health issues, temperament, and genetic screening, as well as to the individual care and placement of puppies in responsible homes," (AKC Breeder Of Merit Program – American Kennel Club).
Learn more about Laura Reeves and her breeding methods on her podcast, Pure Dog Talk. Listen to Laura Reeves' podcast, Pure Dog Talk, today.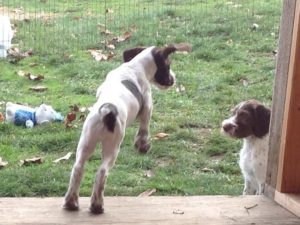 GWP puppy that grew up to be the winner of the GWPCA Dual Futurity Award for the Top Placing Dog in both Show and Field Futurities