As we Embark on a new year of canine genetic health discoveries, let's pause and reflect on the past year. 2020 tested us all, from quarantine to canceled dog shows and shipping delays. Throughout the challenges, breeders knew they could turn to Embark for peace of mind regarding their dogs' genetic health, traits, and COI. Today, we're shining the spotlight on three Embark devotees who use Embark for Breeders Dog DNA Test kits to help keep their breeding programs happy and healthy.
Canine Trait Testing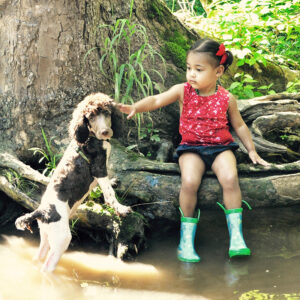 Cassidy Z. (@nanasfarmpoodles) is a former Bulldog breeder who now breeds Standard Poodles in Ohio. "Embark has been amazing," she writes. "Standard Poodles' colors and fading are crazy. We're relatively new to the breed, and Embark has enabled us to learn about their colors and health concerns to understand all of our poodles better. We test every Poodle in our program with Embark and use studs that have Embarked DNA so that we can easily find our best options."
If you're interested in using Matchmaker for a prospective pairing, you can view our breed list here. If Matchmaker is available for your breed, you can access it from your account homepage in the Breeder Tools section. If you breed Poodles like Cassidy and don't see your breed on the list, don't worry! Just send us an e-mail, and the Embark for Breeders team will manually review your COR, predicted average litter COI, expected coat color, and health results. 
Genetic Health and Coat Color Insights
Cassidy strengthens her breeding program with Embark genetic health and coat color insights: the data allow her to make the best choices for her breeding pairs. "We've found that a couple of our girls carry for Degenerative Myelopathy (DM) and that it's fairly common," she writes, "Because of this, we always use a male that isn't a carrier." For more information on DM, click here.
Cassidy stays in the know as with Embark as we continue to validate new tests. "Poodles come in Parti (Piebald)," she explains, "and because S locus wasn't being tested, we couldn't see if Parti was possible for our girls. We wrote in about this, and within a couple of months, we got an email saying the S locus was now being tested. Man, what a lifesaver! I recommend Embark to all our buyers, and we are sporting the Tested By Embark logo on our website. Embark improves our breeding program all the time."
If you're a breeder looking to add a "Tested by Embark" logo to your dog's page, click here.
Health Testing for Peace of Mind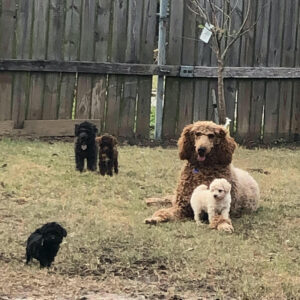 Tiffany L. from Louisiana also breeds Poodles, and Embark has helped her breeding program grow. "Embark is the best, and I get a lot of information for a small fee. It shows customers that I am a legitimate breeder: I wish more breeders would test their puppies! Without genetic health testing, purchasing a dog can be a gamble. Embark helps me make better breeding decisions from just one simple test."
"I thought that one of my puppies had a higher COI, and after getting the Embark results, I learned that he didn't," Tiffany muses, "It helped ease my mind!" If you're concerned about genetic relatedness, Embark's testing platform can provide parentage information, though this is not included in our standard reporting.
Lowering Breeding Program COI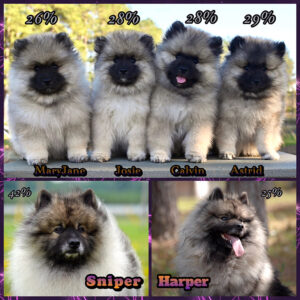 The Coefficiency of Inbreeding is a concern for many breeders, so it comes as no surprise that it's of paramount importance to Keeshond breeder Beth B. of Trumpet Showdogs in North Carolina. "I had been investigating Embark and happened to run into a rep at the Orlando National Dog Show," she writes. "We had a great conversation as to how the data collected could benefit my breed in the future, but what really intrigued me was the genetic COI feature. Days after this conversation, one of my top sires, Sniper, suddenly fell ill and was diagnosed with Stage Four Hemangiosarcoma. I ordered his kit immediately, as I knew I would not have long with him. Based on his Pedigree COI, I knew that he was closely line bred. I was excited to learn that I could get his genetic COI along with other information through Embark.
Sniper had a litter on the way, and Beth swabbed him, his mate Harper, and the resulting puppies as soon as she could. "I lost Sniper just before the puppies were born, but once the puppies were tested, I was very relieved to see that their profiles showed a much lower COI within a range with which I felt comfortable moving forward. Of course, Sniper was the picture of health in every way throughout his life, and there were no negative genetic markers on his profile. Now, his data is forever stored, and maybe someday, he will contribute to future markers that will benefit my breed and others."
Breeders like Cassidy, Tiffany, and Beth help make the Embark for Breeders community great. Whether you're looking to screen for genetic health concerns, breed for specific traits or work to reduce the COI of future litters, Embark for Breeders is here to help in 2021 and beyond!
Join our Facebook Pack here to share YOUR Embark story.