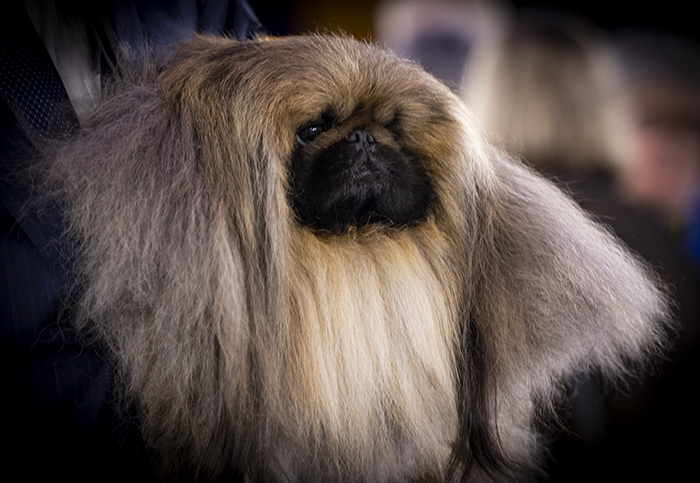 Earlier this month, Wasabi the Pekingese won the Westminster Kennel Club Dog Show's Best in Show honor at Lyndhurst Estate. Just before she selected her winner, Best in Show judge Patricia Craige Trotter shared a sentiment with the audience. "We love all dogs as dog lovers. Mixed breeds and purebreds. They're all pets. Now, every pet may not be a show dog, but be assured, every show dog is a pet." Her words met applause as she then announced the Pekingese Wasabi, a well-bred, glamorous show dog, as the Best in Show winner. Pekingese are known as "lion dogs" among Toy breeds and Wasabi is no exception. Trotter mentioned in her remarks that she had seen the ancestors of several of these dogs over the years. For example, Wasabi came from a long line of planned breedings and champion dogs including his great-grandfather Malachy who was the 2012 Westminster Best in Show winner. Wasabi's owner/breeder/handler David Fitzpatrick will receive an Embark for Breeders DNA Kit as the Westminster Pekingese Best of Breed winner. 
After a premier event like Westminster, where many of the top dogs in the world come together, there's a unique opportunity for breeders to think about potential breeding counterparts for dogs in their program. As breeders watching the show, one might identify a potential stud dog for your breeding program, a female that might complement a sire in your kennel, or be reminded of a veteran dog from past generations. With these fresh insights, the process of researching potential breeding counterparts can begin in earnest. As always, Embark recommends assessing genetic health risks and genetic diversity with a dog DNA test in addition to the many other health assessments, pedigree information, and other factors considered in a potential breeding. 
In 2020, when Siba the Standard Poodle, officially known as GCHP Stone Run Afternoon Tea, captured Best in Show at Madison Square Garden all eyes were on her after her stunning performance. Poodle fanciers, however, wondered how she might contribute to the preservation of the breed. Just over a year later, the answer is that Siba produced a litter of eight lovely puppies out of GCH Stone Run Dark Knight Rising, affectionately known as "Logan." This handsome Standard Poodle finished his championship at 6-months-old and his grand championship title by 9-months-old and won an Award of Excellence at the AKC National Championship in 2018. Logan is now retired from the show ring and has produced numerous champions to date. As a result of this breeding, Siba and Logan's genes have been added to the breed population. Now, Siba's puppies will contribute as well, even if they are never bred, and spend a happy life with a loving family. Check out why it's important to DNA test all puppies in a litter as well as the sire and dam. 
Before the mapping of the canine genome, breeders relied on the successes and the disappointments of breeders who came before them, and mentors would pass along lifelong learnings as the basis for making good breeding decisions. While that continues today, fortunately breeders now also have a suite of scientific tools at their disposal via genetic testing for health risks, traits, and genetic COI. 
But what does the future of breeding or breed preservation look like? When responsible breeders look forward to improving the longevity of not only individual dogs, but the breed itself, genetic testing takes on a new meaning. Genetic health testing of the prospective sire and dam before a planned breeding is needed to ensure that no known, heritable genetic diseases will be passed down to the puppies. Puppies should also be DNA tested and participate in annual surveys in order to contribute to additional phenotypic and genotypic knowledge that may not have been possible by just testing parents before a planned litter. Robust genetic health research becomes a family affair by testing puppies to contribute to research and sharing with new puppy owners.  
It's not just champions that can contribute to breed preservation and genetic research on breed populations. Most breeders only hold back one or two puppies out of a planned breeding. The remaining puppies go to well selected pet homes to be loved and cherished. These puppies have the potential to make a huge impact on ongoing research as well by contributing their DNA test results to organizations like Embark who actively work to create new health screenings for dogs. In addition, having puppies that have been tested before they go to their new home will reveal any genetic health risks that might affect the puppy throughout its life, and provide peace of mind to pet owners. Having this knowledge to share with the puppy's veterinarian can help with any potential diagnostics or care for the life of the dog. 
Whether it's breeding the Best in Show dog at Westminster or engaging all of your puppy buyers to share their beloved pet's DNA with genetic researchers and take annual health surveys, all dogs turn out to be big winners.